In the Friendship Force world, there's no experience quite like meeting a new club that is hosting its very first Journey. Last month, Doug and Les Buchanan from The Friendship Force of North Moreton led a group of 26 ambassadors from six Australian clubs on a journey to Sri Lanka. The members of the Friendship Force of Ambalangoda, including teens and those in their twenties and thirties, were ready and waiting with open arms and hearts. Here is Doug's account of the experience:
What a wonderful Journey. Unbelievable!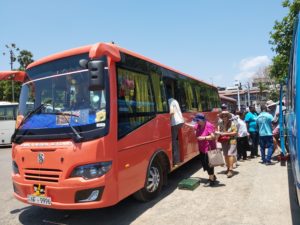 We departed Brisbane on the 6th of March and travelled to Sri Lanka via Singapore. We were met by the Friendship Force of Ambalangoda at Colombo airport in the capital, and had a lot of fun trying to load our luggage into the bus. No matter how hard we tried, the bags would not fit. This was no great problem, however, as we were about to learn that the members of this new Sri Lankan club can make things happen without any fuss whatsoever. The bags were unloaded and the bus departed. When we arrived in Ambalangoda, all our suitcases were there. No worries.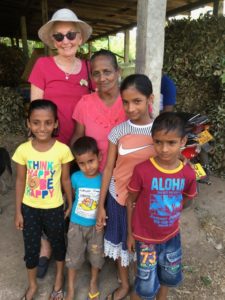 The host club had prepared a welcome lunch at the home of Pryini (the club president) and from there we were driven to our host homes. We visited cinnamon and tea plantations, a moonstone mine, the famous Galle Fort, took a boat trip through the mangrove swamps and visited various temples as well as the famous Ariyapala Mask Museum. The next week was full of trips, lunches and dinners and a real bundle of fun. All of us were so impressed, not only by the warmth of the club's members but especially by the children and parents of the club members. The children, probably aged from 6 to 24, wanted to join us on every occasion and we all cherished their presence. They assisted us on and off the bus, carried our bags, or even at times our water bottles. Also, many parents of the Ambalangoda club's members also participated.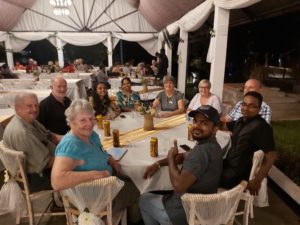 Our evenings consisted of a range of activities at hosts' homes including a group BBQ, a soup night, and one evening where the Sri Lankan hosts were our guests at a local restaurant. There, a couple of our hosts' children sang to us and we all danced past midnight. We also had a farewell BBQ with more dancing and singing. By the time our Journey had finished, we all felt that we had made some lasting friendships and left with tears in our eyes.
Sri Lanka, formerly called "Ceylon", is an island nation, southeast of the Indian subcontinent, and is often referred to as 'The Pearl of the Indian Ocean' or 'The Land of Smiles'. Ambalangoda is a coastal town in the Southern province and is home to the first Friendship Force club in Sri Lanka. Mr.Lokuge Darshana, a founding member, lives in Japan and first learned about Friendship Force in 2014 on the internet and from subsequent discussions with FFI staffer Noriko Kanamoto and FF Japan Mentor, Tsuguyo Ishii. At the time of the Australian Journey, plans to establish a second Friendship Force group in Sri Lanka were underway, an indication of the ongoing interest in Friendship Force's mission in Asia.