We are living in unprecedented times as we navigate a new normal after the outbreak of COVID-19. Depending on where you are in the world, you may be considering home hosting again in the new future. Friendship Force International would like to offer some guidelines as our members get back into the habit of making new friends through Friendship Force Journeys.
We have developed the following checklist to prevent the spread of COVID-19 based on information available from the Centers for Disease Control* (CDC) and the World Health Organization (WHO):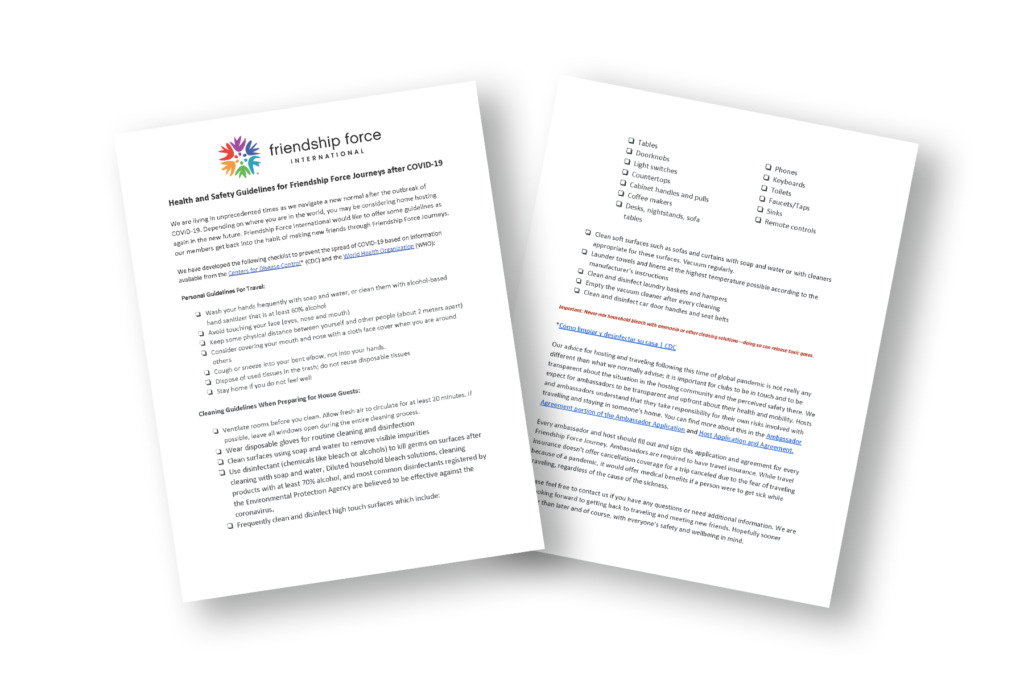 Our advice for hosting and traveling following this time of global pandemic is not really any different than what we normally advise; it is important for clubs to be in touch and to be transparent about the situation in the hosting community and the perceived safety there. We expect for ambassadors to be transparent and upfront about their health and mobility. Hosts and ambassadors understand that they take responsibility for their own risks involved with traveling and staying in someone's home. You can find more about this in the Ambassador Agreement portion of the Ambassador Application and Host Application and Agreement.
Every ambassador and host should fill out and sign this application and agreement for every Friendship Force Journey. Ambassadors are required to have travel insurance. While travel insurance doesn't offer cancellation coverage for a trip canceled due to the fear of traveling because of a pandemic, it would offer medical benefits if a person were to get sick while traveling, regardless of the cause of the sickness.
Please feel free to contact us if you have any questions or need additional information. We are all looking forward to getting back to traveling and meeting new friends. Hopefully sooner rather than later and of course, with everyone's safety and wellbeing in mind.