Written by Don Titterton, FF Albany, Western Australia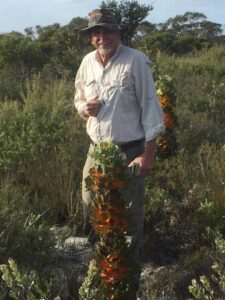 The members of the Friendship Force of Albany, Western Australia, decided we couldn't sit by and watch this wonderful organisation, Friendship Force International, wither and die as a result of these crazy COVID-19 times. We decided to invite Perth, the only other club in our lockdown state, for a Domestic Journey. Perth members have visited Albany many times before so this offering had to be different from before. We must have been successful making it unique, as no less than 29 Perth friends joined us in October 2020 for a "Culture and Biodiversity" themed Journey.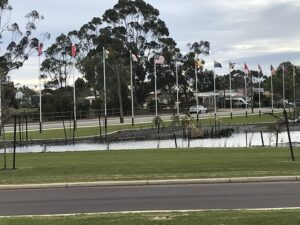 There is a difference between visiting a place and getting to know a town and the people who call it home. Katanning (population 3,000), though a little off the beaten track, was the starting point for this Journey. Why Katanning? We were intrigued by a town that flies flags from so many nationalities on its main street – twenty-one flags to be exact – to represent the origins of its community members.
For some biodiversity we stayed overnight at Stirling Range Retreat followed by a visit to the Porongurup Ranges, estimated to have been formed over 1200 million years ago. Although only a 100km apart the two mountain ranges are different in many ways. The latter has never been submerged and still has plants and spiders that got under the feet of the dinosaurs. The Porongurup community raised $400,000 to purchase a local property because of its notable biodiversity value. The Friends of the Porongurups is a volunteer organisation founded to protect the integrity, biodiversity, and ecosystems of the national heritage of the Porongurup Range and surrounding areas. They gave an excellent talk and guided walk around the property, now called Twin Creeks Reserve.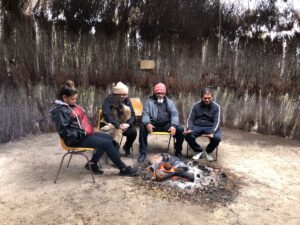 The Journey included a road trip to Nowanup, a bush property purchased by Greening Australia in 2006 for restoration and to give Aboriginal people the opportunity to use it for 'country for culture' programs. Nowanup has been replanted to support the Gondwana Link vision of rebuilding natural bush connections across 1000 km, from the southwest corner of Australia to the edge of the Nullabor Plain. We spent four hours with Elder Eugene Eades and heard about Noongar culture, native foods and medicines and the cultural program at Nowanup including the involvement of local universities.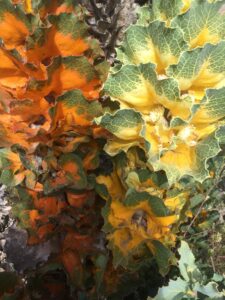 We then stayed overnight in the coastal town of Bremer Bay for a social and fun night, then the morning saw us at Tozers Bush Camp on the fringe of the Fitzgerald National Park. Here we observed rare and endangered plants endemic to this area including the beautiful Royal Hakea. On our return to Albany we had a short stop at Lake Pleasants, a sacred site with 20,000 years of history and part of the Aboriginal Dreamtime Stories.
I do not dwell on what cannot be done, but ask instead, "What else is possible?"